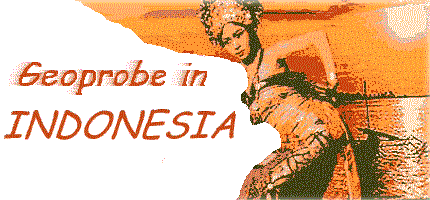 While supervising seismic surveys in Australia's Great Australian Bight for OXY, we received a call from an old colleague Lou Flower in Sydney about helping out on a program on a land survey in Sumatra in Indonesia. Lou asked if we supervised land seismic surveys. I unhesitatingly replied, "certainly!". His client was JAMBI Oil Development Corp. of Japan, and we provided a consultant who was based out of Pasadena, California - Paul Mairisse. Lou mentioned that "Oceanprobe sounded like some thing not directed toward land seismic surveying". I immediately replied that we had a subsidiary called Geoprobe, Inc. that specialized in land work. We received a TWX'd contract within hours and Paul was enroute to Jakarta within the week. (I incorporated Geoprobe shortly thereafter in Houston...)
Over the years I supervised a large seismic survey in the East Java Sea for Kerr McGee, made several forays into Bali, sent our consultant Don Armstrong to the Arafura Sea to supervise seismic for Diamond Shamrock, attended a managerial workshop in Jakarta for Fletcher Challenge Petroleum, and an environmental workshop for Fletcher.


Send us your comments
Return to Geoprobe home page.


Geoprobe, Inc. 713-974-3025
Email: pk@geoprobe.org


Copyright © 1995-2004 Paul H. Kronfield, Revised January 2004

http://www.geoprobe.org/indonesi.html